You can E-mail me @ Bambi_SC3@yahoo.com
How often do you update your site? I typically update 2 times a week, Tues & Fri, even while I'm away on vacation (Holiday)
Are You Married? Yes, to a wonderful man who is not jealous and loves to share my pictures with others. You will see him getting me off in some of the pictures and videos.
May I send you gifts and will you use them in photo shoots? Of Course you can send me items. All items must be in the origin! al package with the tags still on them. I will try to use any and all the items sent to me in a photo shoot, after all, I am here for YOU to enjoy. You can find my address on the wish list page. If you need a great place to shop, or would maybe like to join a swinger site, just go to my "LINKS" page and click on a banner
Do you really enjoy having naked pictures taken? Yes, It makes you feel quite free...I get so hot and wet during my photo shoots and it makes me excited to know that you will be seeing them. I have VERY close up pictures of my wet private area to prove it
As I said before, this site is for you to enjoy. I will do my best to make your fantisies cum true. I really enjoy having my pictures taken. I think you will be pleased with them. For one low Membership price you get over 10 years of work I have done for my site. That is over 100,000 pictures PLUS the short video clips I include in my photo updates
How old are you? I'm in my 60's, I was born December 08, 1955, I also have 3 Children, 6 Grandchildren AND 2 Great Grandchildren
How large are your nipples? I measured them once at 3/4 of an inch long (I was really horny) ... usually they are 1/2" long on a daily basis
How often do you answer your e-mail? In most cases I answer it everyday
Do you webcam? I don't do paid webcam at this time
Do you use social Media? Yes, I'm very active on Twitter @Bambi4u269 . . . I also have Facebook but rarely use it.
Have you made any videos, I would love to s! ee you i n action? Yes, I have over 60 videos available, click on the SC VIDEOS icon below
You can also buy all my SC Videos directly from me vs my site. When you do that I offer a Buy 2 Get 1 FREE price, contact me for details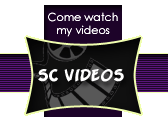 I also include short (lower quality) video clips in most of my photo updates
Can I suggest a video or photo shoot idea? I'm always looking for suggestions, what would you like to see m! e do?
Do you have a Yahoo Group? I use to when that was popular, I leave it up for those that would like to see some pictures & videos from a few years back although I no longer update it. My twitter account has replaced my Yahoo group, here is the link to my old group if you want to take a look http://groups.yahoo.com/group/bambi_sc3
Do you ever meet fans or members? I tweet to let them know where I will be making public appearances so they can stop by and say hi. I have also met many while on vacation in Cancun Mexico as well as at The Harley Rendezvous every June in upper New York State - HarleyRendezvous.com !
I also include short video clips in almost all my photo updates
I'm looking forward to seeing you on the members side
Like they say, MEMBERSHIP HAS IT'S PRIVILEGES
Hugs and Kisses
with licks
Bambi
This page was updated September 29, 2016