My New Little Black Outfit
As many of you know every year
I go to Cancun Mexico for 2 weeks
My next trip is May 8-22, 2012
That means that it is time for me to start
trying on my outfits I plan to wear while at
Temptation Resort & Spa
I think this will be a hit on
the dance floor at night
What do YOU think?
There are 104 pictures & 9 video clips in this update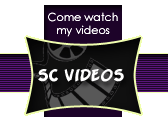 Now Over 40 to choose from
DID YOU KNOW? all my videos are also available on DVD, just e-mail me
Remember, even when you download my videos here, you OWN them, not just rent them
Either way you get to watch them over and over again


Construction Site Slut
11min - 247.6 meg - 720x480


Have you ever been on the job site and needed a little "Stress Relief"? If so then I'm the girl for you, Bambi, The "Construction Site Slut". In this video I start off laying on a stack of plywood up on sawhorses, I'm on my back with my head hanging over the edge, getting my throat stuffed. I then move to my knees and continue to show off my oral skills. Next I end up back on the plywood, this time on my back with my legs in the air, letting a construction worker show me how good he is at banging me, instead of nails. He finishes by overfilling my mouth with a big load that I swirl and play with. Next time you're on a job site and need some relief, give me a call. RUN TIME: 11min 26sec



Vintage Whore (Black & White Version)
7min - 38.0 meg - 640x480


Vintage Whore

(Black & White Version)

The Roaring 20's" was a pretty wild time here in the USA, many women were on the "Wild Side". This is my version of that period of time. While my husband is off at work and making his money...I'm at home with a gentleman caller, taking care of my own business. Watch as we go at it in the kitchen next to the ice box, He shoots not 1, but 2 loads onto my chest leaving me with 2 pearl necklaces. Then I send him on his way before my husband gets home. After he's gone, I go wash up in the shower (with my stockings on). I have 1920's style black hair, lace bra & stockings...I'm a true "VINTAGE WHORE" This was filmed in a vintage 1920's historic landmark, in black & white. RUN TIME: 7min. 27 Sec.



Bambi's Biker BJ
9min - 88.5 meg - 640x480


Each year I attend a Harley Rendezvous on private property in upstate New York with 1,000's of bikers. In this video I visit a tent and give a Biker a BJ. It's non stop BJ action from the fist frame, complete with a cum shot in my mouth at the end. Go ahead, buy this video, You won't be disappointed. I'll be at the Rendezvous again this June, so why not stop by for a visit. . . You might be in my next Biker Video



Hugs & Kisses
with Licks,
Bambi